Recorded Content Library
CBSI-Connect features a link to recorded courses available for self-enrollment. Recording law enforcement training creates important and relevant assets for individuals to access regardless of duty and other commitments which may prohibit attending a desired training when it's happening live. Recorded content includes recorded lectures, instructorless self-study courses, videos, and hybrid assets that can be used as training tools and reference materials.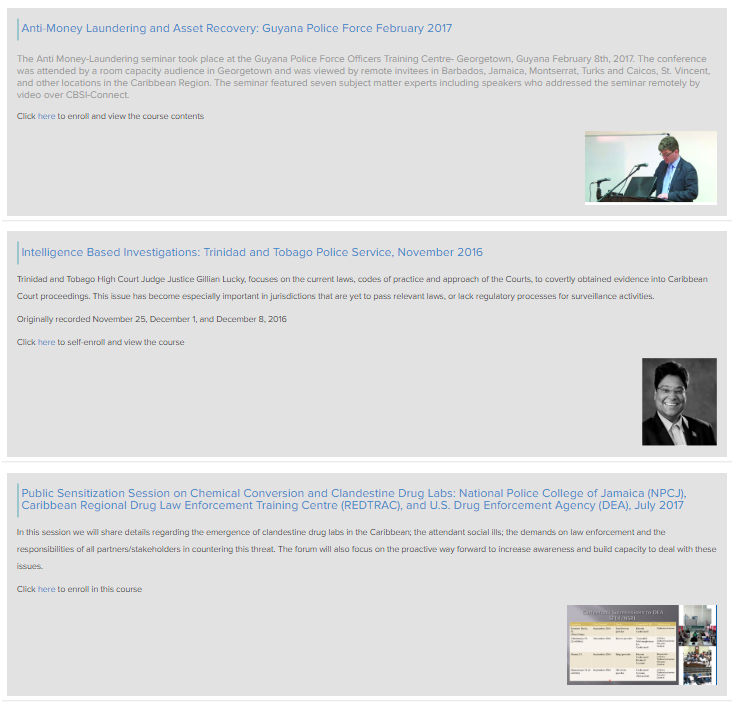 CBSI-Connect makes it simple to access recorded courses by placing them through the Recorded Courses link on the main page of the CBSI-Connect.org site and by featuring courses on the CBSI-Connect.org landing page.
New courses will be added monthly as additional shared training assets will be added to the CBSI-Connect.org site. Courses that have special enrollment requirements such as vetting or other pre-requisites for highly sensitive topics will not be included in the Recorded content library.
Users of CBSI-Connect are encouraged to explore recorded courses on the main CBSI-Connect site and check back periodically as new offerings are being made available. Participating institutions are also encouraged to add recordings that may be regionally relevant to broader law enforcement goals.
if you need more information Login to your account or Contact us: info@cbsi-connect.org
The CBSI-Connect project is wholly funded by the American people under the Caribbean Basin Security Initiative (CBSI), a partnership between the United States and Caribbean nations working together to reduce illicit trafficking, increase public safety, and promote social justice.